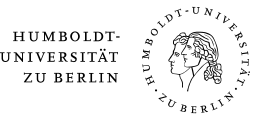 directions
The group is currently in a transition period from the FHI to the HU. Therefore, some of us and some of our labs are in Adlershof and some in Dahlem. Please, make sure you are heading towards the correct site :)
+++ Corona +++
Due to the current situation access to both, HU and FHI is restricted and the conditions are subject to changes frequently. In case you plan to visit us, please contact us by email first. Our email addresses can be found here.
---
electron dynamiX @ HU Berlin
We are in the Department of Chemistry on the Campus Adlershof of the HU Berlin (red building). It is not allowed to park near the main entrances of the builing in Brook-Taylor-Str. 2. When on the lawn in front of the building, take the right-most entrance (arrow), stay on the ground floor and take the glass door next to the elevator. Turn left. When you have reached room 0'303, you have reached the beginning of our group's offices and labs.
---
electron dynamiX @ FHI Berlin
The labs of the electron dynamiX group are located in the Department of Physical Chemistry on the FHI campus (the golden building, house G). Find the drive-in at Faradayweg 4-6, head towards the little roundabout and you will find the entrance to our building on your left. There is a phone next to the door so that you can give us a call using the FHI extension!
The safest way to reach us at the FHI is to go to the main reception of the FHI, which is right opposite of the Department entrance, behind the blue door with the old letters "KAISER WILHELM INSTITUT FÜR PHYSIKALISCHE CHEMIE UND ELEKTROCHEMIE". Simply enter and have the receptionist call us.